This month we got to try out a new protective cover for our iPad, the
Trident Case
, which currently sells for $69.95.
We received the KRAKEN A.M.S. CASE FOR APPLE IPAD 2/3/4 in black.
This case comes in a variety of bright happy colors. If it had been totally up to me, I would've claimed the pink one. But our iPad is actually more my hubby's than it is mine and he uses it a lot on business trips. He would most certainly not have appreciated a pink case. Hehee! I keep telling him that "Real Men Wear Pink" but he's never going to buy that.
Trident Cases
Trident creates cases for a variety of different mobile devices.
The Kraken A.M.S. Series cases are the strongest and most durable cases that Trident makes.
There are three layers of protection built into the Kraken cases. The front plate contains a built-in screen protector, the middle section contains a shock-absorbing silicone layer, and the final layer contains the hardened polycarbonate back plate.
This case is able to withstand 26 drops onto concrete from four feet.
This case will protect your iPad against rain and wind. There are even dust and sand filters build into the case, which I must admit is a huge plus when you live out in the windy desert like we do.
The Trident cases are designed for ALL AGES, which is a good thing because we have little fingers as small as three years old using this device.
Trident cases are also American made. Love, love, love that!!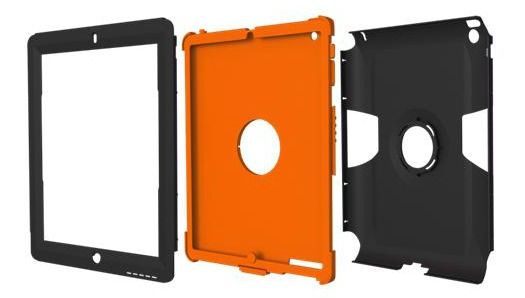 Usage and Thoughts on the Trident Case
As I mentioned earlier, my hubby uses the iPad for his work. We also watch movies, play games, and use educational apps on the iPad. We take the iPad on car trips, use it outdoors, and the kids handle it frequently as they use it for games and learning activities. I check email on it and, of course, I'm busy pinning things on Pinterest 24/7. So our Trident case got a thorough workout!
Getting the Trident case on our iPad took a little figuring out. There is a little booklet that contains instructions but it was in a ton of different languages and it included instructions for several different devices, so it was quite confusing.
I love that the Trident case protects the iPad against being dropped. That has been a huge worry for us, not just because the kids handle it but also because I have butter fingers. I am just as prone to drop the iPad as the kids are!
The Trident case boasts enhanced sound and I would definitely agree that movies, music, and other audio did sound louder and clearer.
We liked the built-in screen protector. It didn't seem to affect the sensitivity of the screen but it did help keep smudges and fingerprints from becoming such a nuisance. We did not have to wipe the screen as much as we usually did.
We really liked that this cover was durable and strong. This case is made to provide your iPad with maximum protection. The Kraken A.M.S. Series cases are tested to meet or exceed military standards. Although we didn't want to drop it to test it out, it did seem much more protected in this case which was reassuring.
This case made the iPad quite a bit heavier so keep that in mind if you are going to be carrying it around very much. I also found the hardened polycarbonate cover to be somewhat slippery. I would love for it to have more texture to it or possibly some rubbery grips on the edges to help provide a secure grip.
Because the back of the case is not completely flat, if you use your iPad on a table, desk, or any flat surface on a frequent basis it will rock a bit from side to side. Because I use the iPad on the kitchen counter most of the time, whenever I would use the iPad it would wiggle around on me. That was a bit frustrating. This case would work best if you use it on a soft surface such as your lap, bed, or carpeted floor.
This case by itself cannot stand up on it's own. If you want to prop it up to watch a movie or something, you'll need to stick a pillow behind it. This was my biggest disappointment with the case. However, I did find out that you can buy an attachment that will fit on the back of the Kraken case. You can purchase the attachment for $19.95. I was sad that the stand wasn't included with the case because, to me, that is an essential feature.
The Kraken cases are built to protect and, although I don't feel that this case has everything I want in a cover, I do agree that this case will protect our iPad better than our old case. So, if it's protection you're looking for, then this case fits the bill!
Read More Reviews
Related posts: