I love politics. I enjoy staying up-to-date on current events and following the different social and economic issues that face the country. But it's not just a passion I have, it's a duty as well. The leadership of America belongs to "We the People". If we as Americans don't know our rights and our duty to be involved in the political process, we will lose the freedoms we hold so dear.
I have enjoyed using HISTORY Through the Ages Hands-on History Lap-Pak: U.S. Elections by Home School in the Woods with my son to help him understand the political process better. America has a unique system of government, one that is for the people, by the people. Learning about how our system of government is different from all others has been an exciting and interesting study, for both of us!
U.S. Elections Lap Pak
Home School in the Woods is an award winning Christian company offering exciting hands-on curriculum to homeschoolers. Featuring timelines, lap books, maps, history studies, and more, Home School in the Woods strives to make history come alive to students.
HISTORY Through the Ages Hands-on History Lap-Pak: U.S. Elections is a wonderful hands-on study into the world of politics. This study goes into how elections work in America, how our government is structured, and the history behind it all. Most kids would probably be turned off by a study in government, but with this hands-on study, learning is actually FUN! With all the colorful and appealing projects to correspond with each section, my son was never bored and always wanted to do more.
I received the downloadable format to review but a CD format is also available. I used this study with my 5th grade son but this study would be appropriate for children in grades 3-8.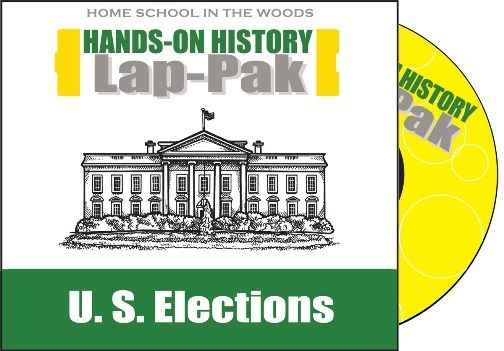 The study comes with printable reading text, audio of the reading text, project directions, lap book activity files, lap book cover, directions for assembling the lap book, and photos of completed lap book activities. There are 21 hands-on lap booking activities with an activity for each section in the study.
Some of the topics included in History Lap-Pak: U.S. Elections are the definition of "election", different forms of government, the three branches of government, suffrage, primaries and caucuses, the presidential campaign, the electoral college, inauguration day, and so much more!
Besides the unit study, you'll also need a few common school items to complete the lap book projects.
cardstock
colored cardstock
printer paper
colored printer paper
double-sided tape or a glue stick
colored pencils or markers
scissors
paper fasteners
glitter
file folder
There are some other things you might like to have on hand as well, such as an exacto knife, but we made do without by using scissors. We also needed some clear acetate but, instead, I used a piece of clear laminate and it worked great!
Usage and Thoughts
Believe it or not, my son and I have never completed a lap book project together. Luckily, we didn't need any prior knowledge or skills to be able to put together our first lap book. History Lap-Pak: U.S. Elections was organized very simply and we were able to begin without any trouble.
I started out by printing off the files, and then I put them all together in a 3 ring binder. From there we worked on one section each day. Each section took only about 30 minutes or less to complete. Instead of doing the reading myself, I played the audio for the section we were doing and then we worked on the lap book activity together. Assembling some of the hands-on activities would be challenging for my 5th grader to do alone, so we did the projects together.
I really liked that History Lap-Pak: U.S. Elections offered different files depending on the ability of your child. With certain projects we had the choice to print a file with lines or a file with text. We usually chose to use the file with text since my son gets easily overwhelmed if he has to do too much writing.
The instruction for each lap book activity comes with very detailed instructions and pictures, too. I never had any trouble knowing exactly what to do. All the files for the study were organized and set up in such a way that it was very easy to use.
The lap-book assembly instructions were very helpful. I loved that I didn't need to try to figure out how to put the lap book together by myself. We chose to attach our projects to the lap book as we went along, instead of waiting until the very end of the study. I think this brought feelings of accomplishment as we progressed.
As much fun as this lap book has been to create, I'm not sure whether my son will retain much of the information he's learned. There are no quizzes, tests, or work that require him to remember anything we've studied. I would like to see more than just an awesome lap book at the end of this unit study. If Home School in the Woods could incorporate activities and assignments that would help kids retain more information, that would be very helpful.
Overall, we've really enjoyed our U.S. Elections study with Home School in the Woods, and my son's lap book is jam packed with tons of information.
I love that this lap book is interactive. You can lift flaps, turn wheels, and do lots of fun investigating as you look through the book.
I know this lap book will be something my son looks back at for years to come and it's such a great resource to show anyone who wants to brush up on politics. We're very happy with this study and look forward to using more resources from Home School in the Woods.
Related posts: