This year has come and gone so quickly! I have so enjoyed the products we've received and reviewed through the Old Schoolhouse Review Crew. Being a part of the Crew has definitely enriched our homeschool in so many ways. But before the year is over, I have one more review I get to share with you – Grapevine Studies!
Over the past few weeks we've been using the downloadable e-books Old Testament 1: Level 3 Creation to Jacob and Old Testament 1: Level 1 Traceable Creation to Jacob, along with the corresponding teacher's guide, by Grapevine Studies for our morning devotions. I had heard so many good things about Grapevine Studies through other homeschooling moms; I was excited to try out their books with my own kids!

Grapevine Studies
Grapevine studies is a Bible study method and curriculum that uses timelines and stick figure drawings to help children learn about major characters and events from the Bible. Grapevine Studies has both books and e-books available for grades Pre-K to 8th. I used Level 3, appropriate for 5th and 6th graders, for my son and Level 1 Traceable, geared towards ages 3-5, for my daughter.
Besides the variety in levels, Grapevine Studies has many different topics available. We chose to review Grapevine's Old Testament Overview: Part 1, which covers the main topics from Creation to Jacob. This study contains 12 lessons and covers Creation, Adam and Eve, The Fall, Noah and the Flood, the Tower of Babel, Job, Abraham, Isaac, and Jacob.
When we are finished with our current study, I'd like to continue with the Old Testament Overview Part 2, which covers events from Abraham to the Tabernacle. Hopefully, we can complete the entire four part series of the Old Testament someday!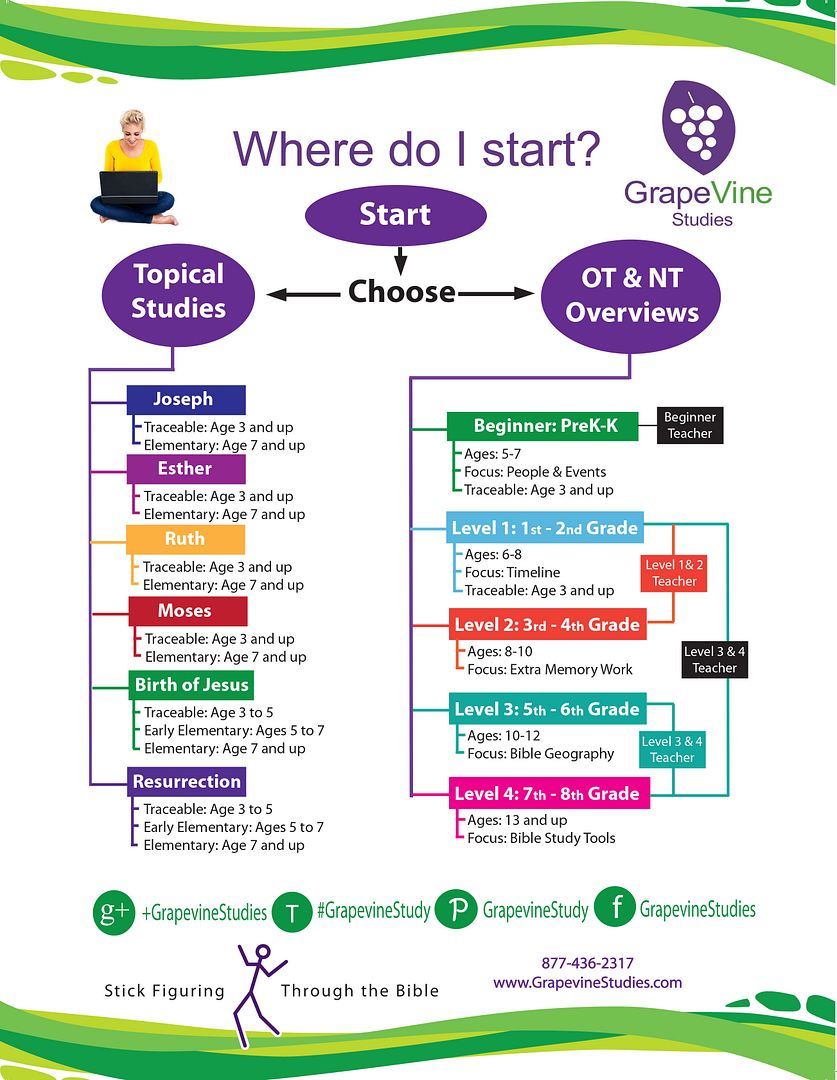 Grapevine studies is easy to use. The teacher's book is an essential part of the curriculum, but once you have that and the student workbooks, it's very open and go. The only extra items you'll need to have on hand is a Bible, a dry erase board and markers, and some colored pencils. Starting in level 4, you'll also need a Bible dictionary, topical Bible, and a concordance.
A daily schedule is included in the teachers' guide. I found the daily schedule to be very helpful and easy to follow.
Daily Schedule:
Day 1: Timeline Review Page
Day 2: Lesson Page 1
Day 3: Lesson Page 2
Day 4: Student Drawing Page
Each lesson contains vocabulary words to look up, verses to memorize, and lesson review questions to think about. The teacher's guide also has notes for the teacher that can be read aloud to the students.
Usage and Thoughts
We are using Grapevine Studies for our morning devotions each day and we love it!
I start out the lesson by reading aloud the Bible verses, we then discuss the reading, and draw! I started out drawing the sketches on a whiteboard as a guide for the kids to follow, but my son ended up just glancing over at his sister's traceable pages and drew the pictures that way. That seemed to work out well for us.
My kids love having their own workbooks. My son's level 3 workbook corresponds nicely with my daughter's level 1 traceable workbook but they differ a bit, too. The traceable version has light gray outlines for my daughter to follow and she is also given a larger area to make her drawings in. She has been able to follow along nicely.
My very favorite thing about Grapevine Studies is the fact that we can all learn and study together, regardless of the age gap between my children. I love that all of us can use this together and be on the same page.
I also really like the way Grapevine Studies has incorporated hands-on learning into their curriculum. Because students get to draw out the pictures, the stories and lessons stick more than they would without the sketching. I think the extra drawing element really enriches the learning experience.
Grapevine Studies offers many sample lessons in a variety of levels so that you can try before you buy!
If you are looking for a sound Bible curriculum that will cover many age ranges, is appealing to kids, and easy for Moms to teach, I definitely recommend Grapevine Studies.
Related posts: